Home -> Downloads

UniBall | TetriNET | Mr. Putts Mini Golf | DarkSWARM | Woof | Night Raid | Spots | My Fly | Sonic Jumper Demo | MiniTron | Space Pong | U Dj | Watch Your Step! | TextFight | Periodic Madness | Game Maker | Matrix Lookin' Thingy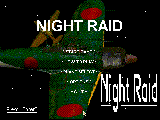 Night Raid
Click here to see screenshots

Size: 793 KB
Players: 1 to 2
Download Here

Defend the U.S. from the Japanese in a plane that you can fully customize! Once again, I didn't make this one (although I am thinking of doing my own version). Like it says above you can make your own plane. If you want to see what designs I came up with just e-mail me.