Home -> Downloads

UniBall | TetriNET | Mr. Putts Mini Golf | DarkSWARM | Woof | Night Raid | Spots | My Fly | Sonic Jumper Demo | MiniTron | Space Pong | U Dj | Watch Your Step! | TextFight | Periodic Madness | Game Maker | Matrix Lookin' Thingy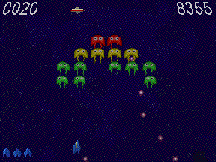 DarkSWARM
Click here to see screenshots

Size: 522 KB
Players: 1
Also check out my Swarm Challenge
Download Here

Here is a great Space Invaders clone. This was not my creation. Lee Bamber developed it first and the download I offer here is my version.